Joint-Pin for Scaffolding Suppliers in Delhi
Call Now: 9810007570
Scaffolding on Rent, Scaffolding on Hire, Shutteing Material on Rent, Buy Scaffolding, Scaffolding Dealers in Delhi
Our highly efficient Joint Pins are widely used to connect scaffold tubes from end to end, when the tubes are compressed. Scaffolding Joint Pins provided by us are in huge demands for high quality and durability. We have carved a niche as the most preeminent Joint Pins Manufacturer and Exporter based in India.

This internal coupler is used to join scaffold tubes but may only be used vertically. Horizontal joints must be with a sleeve coupler.

Pressed joint pin coupler, which has the tube size of 48 mm and nut size of 21. Made with sheet metal, these are zinc plated. Our pressed joint pin couplers are suitable for the internal connection of two tubes end-to-end. Following are the specifications.

Provides end to end connection of scaffold tubes. Operates by being inserted internally and expands to apply grip against the inner walls of the tubes. The fittings are designed only for compression joints, and should not be used where tension can be developed in the tubes.

Used for the internal connection of two tubes end-to-end.
Recommended for vertical and handrail applications.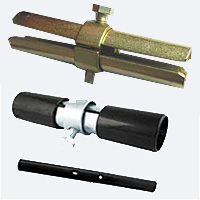 Best scaffolding providers in Delhi (RS Timber Traders)
A Complete Scaffolding & Shuttering Solution